What makes Siena the grand champion of comfort?
Siena's focus has been on engineering a perfect night's sleep.
Price (Queen)
Materials
Warranty
Trial
Free Returns
Free shipping
Firmness
Height
Siena
5-layer construction
10 years
180 nights
6.5
10"
Zinus Cloud
$495
3-layer memory foam
10 years
100 nights
✔️
✔️
6
10"
Siena - "Hands down the best sleep"
"Boy is it hard to choose a mattress. I've slept on a Tuft and Needle, a Casper and a Zinus and my new Siena is hands down the best sleep of the lot. I guess I got lucky with my choice."
Kevin B
Verified Buyer
Zinus - "Great at first–BUT BEWARE"
"When we first got this mattress, we absolutely loved it. You can't beat the price and we were so ecstatic, especially with the 10-year warranty. However, 2 years in, the mattress lost ALL remnants of support, with us sinking deep into the bed each night, leaving us in back/neck pain every morning and terrible sleep quality. When I asked Zinus about a warranty replacement, I was turned down (because of course they don't want to lose money on it). While ~$300 may seem worth it for a mattress, if you're replacing it every 1.5-2 years, is it really worth that price?"
Zinus customer
Source: zinus.com
Certifications Are Nice: But They Come At A Price
Best Newcomer 2022
Affordable Mattress 2022
Most Affordable Mattress 2022
Sleepopolis Approved 2022
Naplab Approved 2022
*Siena has certain affiliate advertising relationships with the above publications. Siena has no editorial influence over such reviews or awards.
A Little Less Money… But a Lot Less Mattress
Sure you might save… $4 with a Zinus Cloud (maybe enough for tomorrow's coffee?) But what are you cutting back on? For an extra $4 you can get five layers of amazing mattress, and your best rest yet. Sounds like a steal to us! So what're you getting with a zinus?
This sounds great… on paper. Zinus have infused their second layer with Green tea – but what does this actually mean for you? Like a lot of us, we love a cup of green tea, but putting it in your mattress feels like a gimmicky distraction from the fact that memory foam is by nature a man made product. Man made doesn't have to mean bad: for you, or the planet. The Siena is made out of amazing quality foam, specifically designed to give you your best rest. No gimmicks. No green washing. Just a great night's sleep.
100-night trial. But only if…
You get your mattress directly from Zinus. If you were to buy it somewhere like Amazon, you won't get a home trial at all. Just their standard 30-day returns window. Which isn't much time to test it out. And even if you do get a 100-night trial, that's pretty short. Most brands recommend trying it out for 30 days before returning. So that only leaves a couple months to test it out. Remember how quick the last few months flew by? We're not sure that feels like enough time to adjust to something new, and know if it's your perfect match. With Siena you get half a year to fall in love with great sleep. That's 180 nights… almost double Zinus.
& Maybe some difficulty returning?
Don't love your Zinus? Returning it won't be so easy. They'll make you do all the leg work, organizing your own pick-up, finding someone to donate to if you can, or just sending it off to a recycling center and hoping you can get your mattress sorted out there. Plus you've got to do it super quick - with only 100 nights to try it and get it picked up there's not much room for error. That's not our style. If Siena's not for you, wherever possible, we'll arrange for it to be collected by our partners, who help your Siena get a second life. So you can spend less time chasing refunds and more time counting sheep.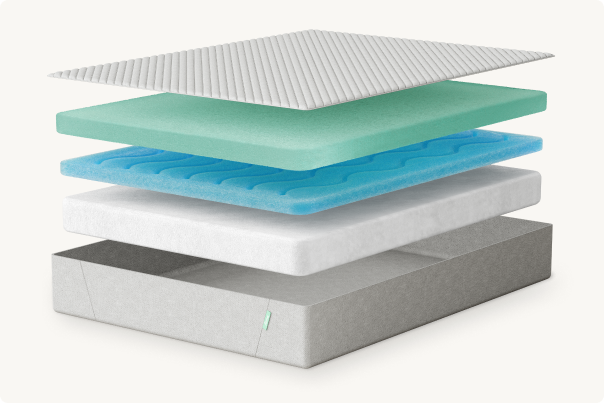 A thick and inviting top fabric layer that's soft and comfy.
Pressure relieving memory foam cushions your weight, helping your whole body relax.
A convoluted foam that further cushions your body for better comfort and support.
Strong foundational layer
Sturdy 5" layer helps support your whole body, even if you're a little heavier.
Shift Resistant Lower Cover
No slip-and-slide here. Your mattress stays put, even if you jump on it!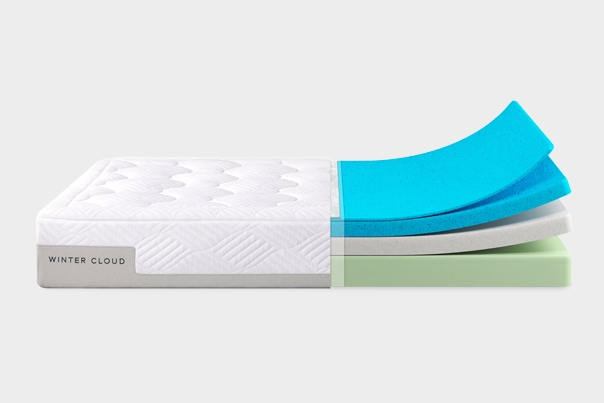 A luxurious quilted cover with plush high density foam.
Foam infused with natural green tea and purified charcoal… Is this a health food, or a comfy mattress? Seems hard to tell!
Pretty much exactly the same as ours - which sounds pretty good to us.
4.5 inches of foundation. That's ½ inch less than ours.
It's time to sleep on a Siena…
"This Is Quite Simply A Stunning Mattress At An Impressively Low Price."
Not our words. That's the conclusion of "Slumber Search" after a rigorous test of the Siena mattress. You see, instead of trying to take more of your money, we focus on giving you a great night's sleep at a fair price. The experts and everyday folk agree, the Siena is one seriously comfy mattress.
Instead of wasting money trying to reinvent the wheel. Or come up with marketing gimmicks to get you to spend more money. We focus all our time on the things that really matter.  That is, designing a really comfortable mattress that correctly supports your body. Manufacturing it to really high standards. Making sure the ordering and delivery process is smooth. And keeping the cost as low as possible for you.
Great sleep. Made easier.
Getting a new mattress shouldn't be hard work. It should be easy to buy, test and return a mattress. And it should be risk-free and stress-free for you. That's why you get a generous 180-night home trial, so you have time to really test it out. That's why you get free shipping and returns, because you shouldn't have to pay while you make that decision. And it's why you get a 10-year warranty, without the annoying small print.
Real service. Not just a smile.
Good customer service doesn't happen by accident. That's why we work hard to give you a great experience. But we also know a happy person on the phone doesn't make up for problems with your order. So we invest in technology, logistics and people to make sure everything runs smoothly. Because while a smile is nice, we know a great product delivered on time is a better way to make you happy
More Mattress, More trial, & More Zzzs?
These people did their research. They chose Siena. And they're super happy they did...
"Really pleased I chose the Siena. This is the best sleep I can remember. And it's so much cheaper than the Casper I used to sleep on."
Anthony W.
Verified Buyer
"Great price. Great mattress. And really nice service from the Siena folks, they sorted out a minor issue in just the right way."
Rachelle D.
Verified Buyer