What makes Siena the grand champion of comfort?
Siena's focus has been on engineering a perfect night's sleep.
Price (Queen)
Materials
Warranty
Trial
Free Returns
Free shipping
Firmness
Height
Siena
5-layer construction
10 years
180 nights
6.5
10"
Casper Original
$896
3-layer foam
10 years
100 nights
✔️
✔️
7
10"
Siena - "Hands down the best sleep"
"Boy is it hard to choose a mattress. I've slept on a Tuft and Needle, a Casper and a Zinus and my new Siena is hands down the best sleep of the lot. I guess I got lucky with my choice."
Kevin B
Verified Buyer
Casper - "My casper mattress nightmare"
"Worst mattress experience ever. It's difficult to move while on it and trying to change positions. I woke up with a sore back, neck and shoulders. Skewed value for money ratio (value is significantly less than cost). Completely dissatisfied."
Idriys (PA).
Source: casper.com
Certifications Are Nice: But They Come At A Price
Best Sleep Award 2023
Best Newcomer 2022
Affordable Mattress 2022
Sleepopolis Approved 2022
Naplab Approved 2022
*Siena has certain affiliate advertising relationships with the above publications. Siena has no editorial influence over such reviews or awards.
What Will You Do With The $637 You'll Save?
Because that's how much money you'll keep in your pocket if you choose the award-winning Siena mattress. By not paying that extra Casper money, you could put a dent in that student loan. Or upgrade your home office. Or put it towards a great vacation. Or just, ya know, keep it in your bank, not theirs.
Casper likes to price it high
When they went public on the stock market, Casper thought the company was worth $450 million. But in just a month or so, investors thought it was more like $90 million. Even today, it's only roughly double that (half what they thought it was) And the same goes for their mattress. The price they think it's worth is perhaps not what it's actually worth. Because for no obvious reason (at least to our experts), they're asking for over twice as much as a Siena.
Where's your money going?
Casper loves to advertise. In fact, they flood the airwaves trying to buy your attention. Billboards. TV spots. Internet ads. They follow you everywhere. We prefer to earn your attention, not buy it. Siena has grown from friends, colleagues and neighbors talking about how much they love a Siena sleep. So get a Casper and help keep the advertising industry afloat. Or get an award-winning Siena and keep that extra cash in your pocket.
Casper wants you to hurry up
Casper started off with a 100-night home trial. That might have been good back in 2014. But we're now in a new decade – things have moved on. Siena's home trial is almost twice as long. Why is that better? Because most brands recommend giving it at least 30 days before returning (although you can definitely love a Siena from night one). So that only leaves you a couple of months with a Casper. And 2 months goes by in a flash, right? With Siena, you get half a year to decide.
Our cover is soft to the touch and breathable to keep you cool and comfortable.
Responsive Gel Memory Foam
This 2" layer of pressure relieving gel-infused memory foam adapts to your unique body shape and size, while contouring to your curves.
Four inches of convoluted foam further cushions your body, giving you just the right level of comfort and support. Ripples in the foam allow for enhanced airflow.
This sturdy 4" stability foam layer is strong, durable, and allows the comfort and support layers above to work their magic.
Shift-Resistant Lower Cover
The durable lower cover keeps all of the mattress layers perfectly in place and prevents shifting.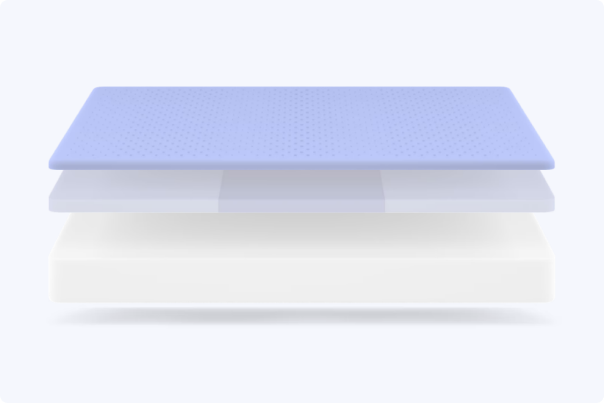 Foam with some holes punched in it.
Basically one layer of foam that lets your shoulders sink lower than your hips.
Tougher base layer to stop you sinking all the way through.
It's time to sleep on a Siena…
"This Is Quite Simply A Stunning Mattress At An Impressively Low Price."
Not our words. That's the conclusion of "Slumber Search" after a rigorous test of the Siena mattress. You see, instead of trying to take more of your money, we focus on giving you a great night's sleep at a fair price. The experts and everyday folk agree, the Siena is one seriously comfy mattress.
Instead of wasting money trying to reinvent the wheel. Or come up with marketing gimmicks to get you to spend more money. We focus all our time on the things that really matter.  That is, designing a really comfortable mattress that correctly supports your body. Manufacturing it to really high standards. Making sure the ordering and delivery process is smooth. And keeping the cost as low as possible for you.
Great sleep. Made easier.
Getting a new mattress shouldn't be hard work. It should be easy to buy, test and return a mattress. And it should be risk-free and stress-free for you. That's why you get a generous 180-night home trial, so you have time to really test it out. That's why you get free shipping and returns, because you shouldn't have to pay while you make that decision. And it's why you get a 10-year warranty, without the annoying small print.
Real service. Not just a smile.
Good customer service doesn't happen by accident. That's why we work hard to give you a great experience. But we also know a happy person on the phone doesn't make up for problems with your order. So we invest in technology, logistics and people to make sure everything runs smoothly. Because while a smile is nice, we know a great product delivered on time is a better way to make you happy
Get An Award Winning Siena And Keep All That Extra Cash In Your Pocket
These people did their research. They chose Siena. And they're super happy they did...
"Really pleased I chose the Siena. This is the best sleep I can remember. And it's so much cheaper than the Casper I used to sleep on."
Anthony W.
Verified Buyer
"Great price. Great mattress. And really nice service from the Siena folks, they sorted out a minor issue in just the right way."
Rachelle D.
Verified Buyer